Decontaminate, Disinfect, Deodorize, Or Sanitize Public Restrooms And Bathrooms
Sanitize public restrooms and bathrooms need to be kept at the highest standard of cleanliness, as these areas are highly frequented by many people daily. Chlorine Dioxide is ideal for safely decontaminating, disinfecting, and sanitizing these areas. It has much lower toxicity than traditional cleaning products used in public spaces. Yet, it is still incredibly effective at killing germs and viruses and eliminating mold, bacteria, and other microorganisms.
Furthermore, Chlorine Dioxide only takes a few minutes to disinfect and sanitize surfaces quickly and efficiently, making it easier to keep public places free from germs or infectious diseases while ensuring they smell fresh. Its quick action also reduces the risk of transmission or infection in high-traffic locations, providing everyone with a safe environment to enjoy.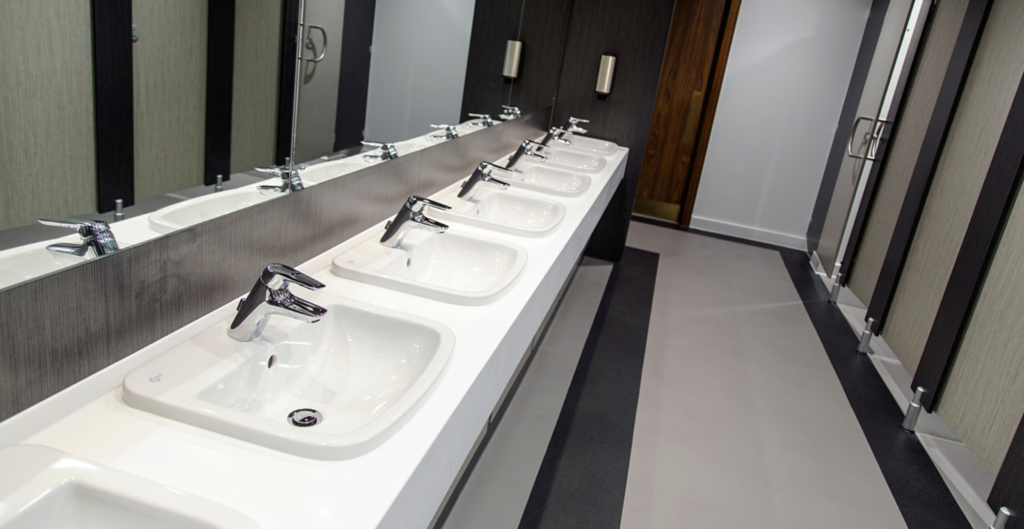 Chlorine Dioxide leaves virtually no chemical residue after use, allowing for better air quality throughout the area. All these benefits make Chlorine Dioxide the most reliable method for keeping public spaces clean and germ-free so that people can rest assured their environment is hygienic and safe.
Public restrooms and bathrooms can be breeding grounds for bacteria and other microorganisms. Chlorine dioxide provides a safe and effective solution for keeping such areas clean and sanitary. Chlorine dioxide can quickly eliminate pathogens from hard surfaces such as sinks, toilets, and floors. In addition, it is also effective at destroying bacteria, viruses, and fungi from soft surfaces such as curtains or carpets.
Chlorine dioxide also has deodorizing properties that can eliminate odors from smoke, mildew, urine and pet smells. This helps to keep public restrooms and bathrooms smelling fresh and inviting. Lastly, chlorine dioxide is non-toxic and does not leave any residue on surfaces, making it a safe and effective option for cleaning such areas.
PUBLIC, COMMERCIAL, AND INDUSTRIAL DISINFECTANT. REDUCE BACTERIAL LOAD, MOLD, AND MILDEW.
Use for antimicrobial and general cleaning applications in institutional, business, medical, professional, fleets, boats, R.V.s, buses, HVAC, spas, filters, and as an additives applied to cleaning products. Non-corrosive on surfaces, eliminate odor in air and surfaces; use on dyed fabrics, gentle, hypo-allergenic, will not damage skin or clothing when diluted properly. Prepare activated solution to a strength consistent with the maximum EPA threshold for residential and public access, food and NON-food contact surfaces. Bacterial load in later stages of the wash cycle is much lower (either rinse/spin) resulting in relatively low concentration. Gentle, fragrance-free, hypoallergenic, removes strong odors like sweat, skunk, or smoke. Stabilized aqueous solutions are compatible with laundry detergents.
| | | |
| --- | --- | --- |
| Use-Site | CONCENTRATION | Mix EQUAL PARTS 1:1 – NaClO2 (Part A) and HCl (Part B) |
| Light – Non-Food Contact | 50 PPM | 50 drops A, with 50 drops B in 1 gallon of water. (2ml = 50 drops) |
| Heavy – Non-Food Contact | 300 PPM | 300 drops A, with 300 drops B in 1 gallon of water. (12ml = 300 drops) |
| HVAC – Vents and Air Ducts | 500 PPM | 500 drops A, with 500 drops B in 1 gallon of water. (20ml = 500 drops) |
| Insecticide or Fumigant | 725 PPM | 725 drops A, with 725 drops B in 1 gallon of water. (29ml = 725 drops) |
Mix in the bottom corner of a designated plastic mixing container. Let the solution activate for 1 minute before dilution. Use as a solution, spray, swab, sponge, flush, fill, dip, immerse, or mop in a manner consistent with usual standards. Soak all biohazards before disposal, animal handling equipment, forks, shovels, and scrapers. For laundry, prepare a solution with a strength consistent with the input desired cycle of the washing machine, including initial start, rinse cycle, or as spin additive. Fill with the appropriate quantity of clean water to activate. fill with the appropriate quantity of clean water to activate. (1 oz – 1 cup). Agitate until mixed. Pour into the dispenser, soaking apparatus, or through some other dosing device.
SPRAY / FOG – allow visible wetness for 5 minutes before drying.
MOP – allow visible wetness for 5 minutes before drying.
SWAB / SPONGE – allow visible wetness for 5 minutes before drying.
SOAK / IMMERSE – allow to drench or submerge for 1 minute.
FLUSH / FILL – allow to drench or submerge for 1 minute.
DIP / RINSE – allow to drench or submerge for 1 minute.
References:
Our Products Are Eco- Friendly, Economical, Compact, And Versatile,
Create A Personalized Disinfection Solution For Your Specific Needs.
Not Sure Exactly How Much You Need Or The Perfect Concentration?