Facility Cleaning – Complete Guide
Facility Cleaning
We will clean accessible targeted surfaces by Facility Cleaning and/or using an electrostatic sprayer with an EPA-approved disinfectant/solution against the cause of COVID-19 in the deep clean. These surfaces could consist of hard surfaces, furniture, equipment, etc.
We will disinfect accessible objects (e.g. medical equipment, computers, documents, and electronics) using a mobile UVC light handheld wand.
Based on CDC Guidelines, particular attention will be given to:
Workstations
Counter tops
Doorknobs/Handles
Elevator/Buttons
Security Card Readers
Faucets
Escalator handrails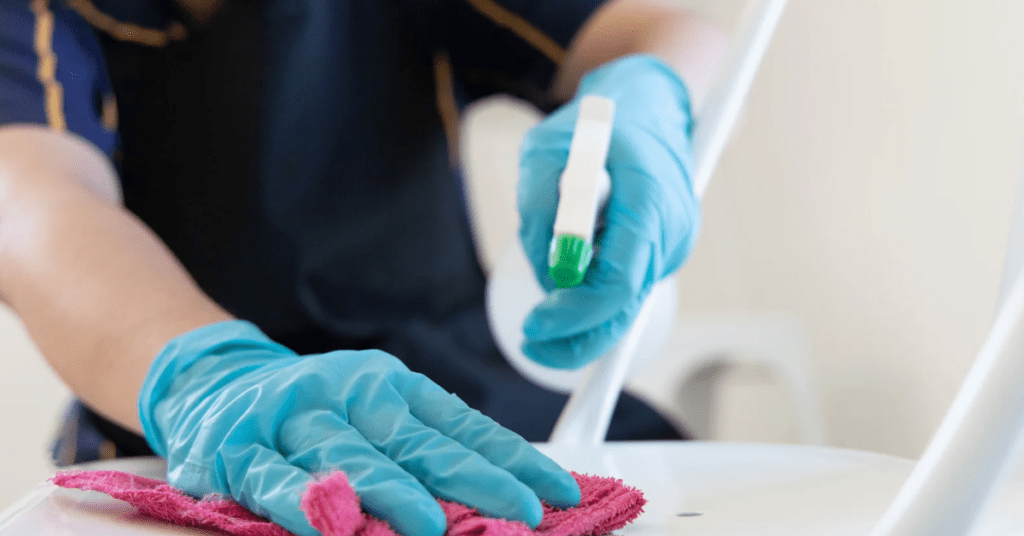 Deep clean to combat against COVID-19 and/or other viruses.
Not only can Hughes Environmental help disinfect your facility, we can help verify that certain areas of your facility are clean with our COVID-19 hard surface testing. A member of Hughes Environmental will swab high-touch areas around your facility to detect the presence of the SARS-CoV-2 virus (COVID-19 or coronavirus) on surfaces based on the CDC 2019-nCoV Real-Time RT-PCR Diagnostic Panel protocol.
Hughes Environmental's technicians train and equip to meet your facility's safety requirements, including infection control for duct cleaning in hospitals, OSHA confined space training, and fall protection when working from lifts. We've performed hundreds of cleaning projects in all kinds of facilities. So, whether your building is a manufacturing facility, a university, school, hospital, or office building, we can help you breathe easier with facility cleaning.
We can offer your place of business a full media kit to show your employees and visitors/customers that you are fully committed to their health and well-being after completing the Facility Deep Clean.
This kit includes:
A Certificate to prominently display in your facility
You can use a Digital Seal on your website and social media pages.
A Press Release Template should you desire to alert to the local media
How much do I need?
Would you like to calculate how much you'll need by answering a few short questions?
Our Products Are Eco- Friendly, Economical, Compact, And Versatile,
Create A Personalized Disinfection Solution For Your Specific Needs.
Not Sure Exactly How Much You Need Or The Perfect Concentration?