Use VeriSan™ Chlorine Dioxide As a Fogging Solution to Go Beyond Your Everyday Disinfecting
To keep your home clean or for high-traffic, public places including transportation hubs, industrial buildings, work, school, church, and other commercial sites.Fogging and Vapor Sanitizing. Apply a fog to entire buildings or rooms and sanitize all hard and soft surfaces.
It is completely safe to use in your home. It's time to give yourself peace of mind by using affordable disinfecting solutions for a hospital-grade clean every time. Safe on all porous and non-porous, NON-food, surfaces to deodorize or disinfect. Apply across entire rooms, bathroom, bedroom, living room, storage, basement, attics, and more! Or for applications where the entire room does not need to be decontaminated, the equipment can be tented and fumigated in place. This allows for a smaller volume to be treated, lowering treatment times and costs compared to decontaminating the entire room.
Disinfect and sanitize to control mold, mildew, fungi, and slime-forming-bacteria
Odor Eliminator and Disinfectant for Home, Work, or On The Go
VeriSan™ remoall known harmful viruses and bacteria with our secret ingredient, (Chlorine Dioxide). Fogging and Vapor Sanitizing. All organic and chemical-based odors (smoke. food. animals. garbage. mothballs. chemical masking agents. mold & mildew. etc.) All can be neutralized and eliminated by using ClO2 or (Chlorine Dioxide)
Safe on Electronics, Upholsteries, and Fabrics, Pet Safe, and Food Safe
VeriSan™ is non-corrosive and neutral pH 7. It is also gentle on materials. VeriSan™ is much less corrosive than most other decontaminating agents. Apply VeriSan™ to electronic devices to clean germs and other technology.
Food Surface, Soft Surface, and Hard Surface Sanitizer and Disinfectant
Clean, clean, and deodorize Carpets, Tiles. Rugs. Curtains. Shades. Walls. Antiques. Leather, Wood, Upholstery, Tables, Couches, Bedding, Shoes, Counters, Laundry, Baggage.
Spray, Wipe, Fog, Vapor, Dip, Dilute, Mix, Immersion, Saturate or Soak
You can clean any surface you want with ClO2. You can either replace the old products or add chlorine dioxide to your cleaning routine. With over 300 EPA-approved uses, we're sure to find one to suit your cleaning needs
Area Fogging, Vapor Disinfectant, & Odor Elimination
Moisture attracts mold, which can easily travel from room to room through connected ventilation systems and people traffic contamination, and can be found all over the place and between buildings. Fogging and Vapor Sanitizing. The EPA states that a 0.42-inch buildup on a cooling or heating coil can cause a 21% decrease of efficiency. These toxic pieccan grow in dirty ductwork and can cause severe damage to people with weak immune systems.
We can tent, fog, or fumigate equipment for applications that don't need decontaminating the whole room. This reduces the volume of work required to treat, which in turn lowers treatment costs and time.
Eliminate odors by eliminating bacteria from the source, including smoke and other bad smells. According to the American Lung Association (ALA), air ducts can contain more germs than chicken coops. Ventilation systems can spread disease-causing organisms easily by allowing for damp and dirty environments.
An Antimicrobial Agent to Eliminate Germs, Odor, & Contamination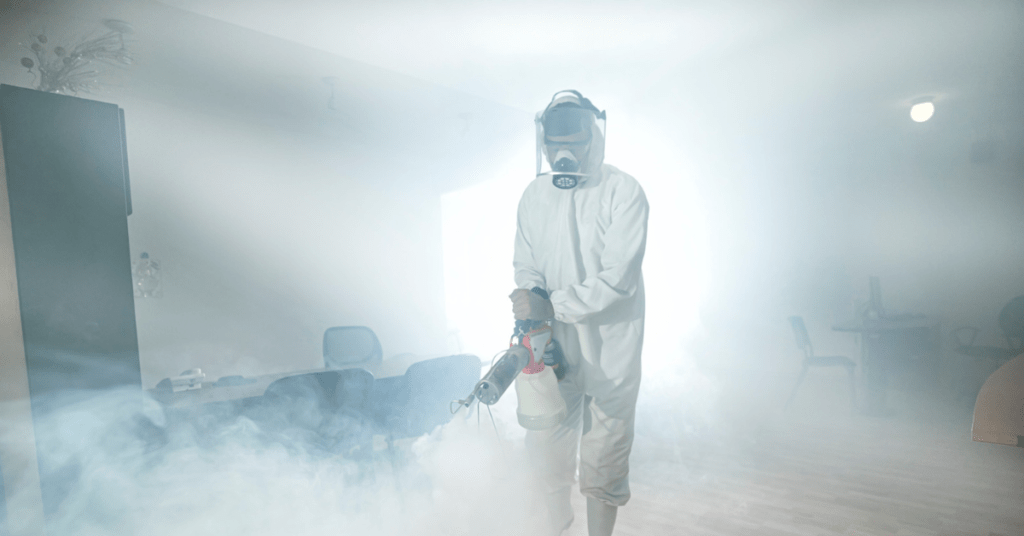 Dust mites thrive in dirty ductwork where they feed on organic matter. The antimicrobial clean chlorine dioxide gas improves indoor air quality by less the concentration of bacteria and fungi. Filtration of air efficiently is essential to stop the spread of these diseases and keep loved ones and employees from getting ill.
Remove Airborne Allergens & Pathogens
The first step to removing allergens and airborne contaminants from the air is cleaning the Ducts. The EPA found indoor air to be about five times more Dirty than outdoor air. Some buildings have 100 times the pollution.
Types of Microorganisms in order of hardness to kill per the Spaulding Classification
Bacterial Endospores (Clostridium, Bacillus)
Mycobacteria (Mycobacterium)
Non-enveloped, non-lipid viruses (Parvoviruses)
Fungi (Aspergillus, Stachybotrys)
Gram-negative vegetative bacteria (Escherichia, Pseudomonas)
Gram-positive bacteria (Enterococcus, Staphylococcus)
Enveloped, lipid viruses (Influenza)
Chlorine Dioxide Is Used To Control Microorganisms On Surfaces.
ClO2 Effectively Kills 99.999% of all Germs, Mold, Bacteria, and Viruses. Chlorine dioxide kills all known harmful microorganisms, so far, there is no organism to date that has been tested against chlorine dioxide that has proven to be tough. such as E.coli, CORONAVIRUS, Salmonella MRSA, Hepatitis, HIV and many others.
Mildew, Fungus, Spores, Mold & Microbes
Mold can spread all over places, including buildings connected by ventilation systems or contaminated by people traffic, because it easily attaches to moisture and can travel from one. Mold removal is a common application in flooded homes to stop its re-emergence. Chlorine dioxide cleaner and deodorizes microorganisms, like mold, directly from the source.
It is not easy to prevent or eliminate spore contamination. Spores can lead to a variety of health problems, including asthma, allergies, respiratory infections, and toxic Toxification. Also can cause headaches, irritation of the eyes and throat, as well as coughing. Chlorine dioxide effectively inactivates fungal pieces better than chlorine, sterilizes even peroxide-resistant and UV-resistant pieces, and is safe and suitable for hospital-grade and public use.
Although ClO2 is one of the gentlest decontaminating agents, it is still recommended that you use personal protection equipment (PPE), when handling chemicals, even those that are considered eco-friendly.
How much do I need?
Would you like to calculate how much you'll need by answering a few short questions?

Our Products Are Eco- Friendly, Economical, Compact, And Versatile,
Create A Personalized Disinfection Solution For Your Specific Needs.
Not Sure Exactly How Much You Need Or The Perfect Concentration?