Tips And Tricks For A Fun, Yet Safe Halloween!
Halloween is right around the corner, and this year it falls on a weekend! However, this year we've already been faced with our fair share of scary things. Tips And Tricks For A Fun Yet Safe Halloween! We thought by now we would have this virus under control, which means this year's Halloween is going to be different that's for sure. Many traditional ways of celebrating are now considered more risky and unsafe than usual, because of the risk of spreading the virus. You might be wondering how you can create a fun evening for your family without putting anybody at risk?
Safe Halloween Celebration: CDC-Approved Tips and Tricks
The Centers for Disease Control and Prevention has issued new guidelines on how to celebrate Halloween safely. Tips And Tricks For A Fun Yet Safe Halloween! Many Halloween activities can be at high-risk for spreading viruses. However, there are several safer, alternative ways to participate in Halloween. We here at Hughes Environmental, we help provide a clean and healthy work environment for our customers. We also care about the health and safety of our clients. Therefore, we wanted to share this list from the CDC on some tips and tricks you can do this year to plan for a fun and safe Halloween. These low risk activities are the best ways to keep you and your loved ones safe.
Carving or decorating pumpkins with members of your household and displaying them
Carving or decorating pumpkins outside, at a safe distance, with neighbors or friends
Have a Halloween-themed room decorating contest with the people you live with
Doing a Halloween scavenger hunt where children are given lists of Halloween-themed things to look for while they walk outdoors from house to house admiring Halloween decorations at a distance
Having a virtual Halloween costume contest
Having a Halloween movie night with people you live with
Having a scavenger hunt-style trick-or-treat search with your household members in or around your home rather than going house to house
Hide Halloween treats in and around your house. Hold a Halloween treat hunt with household members.
Hold an outdoor costume parade or contest so everyone can show off their costumes.
Passing Out Candy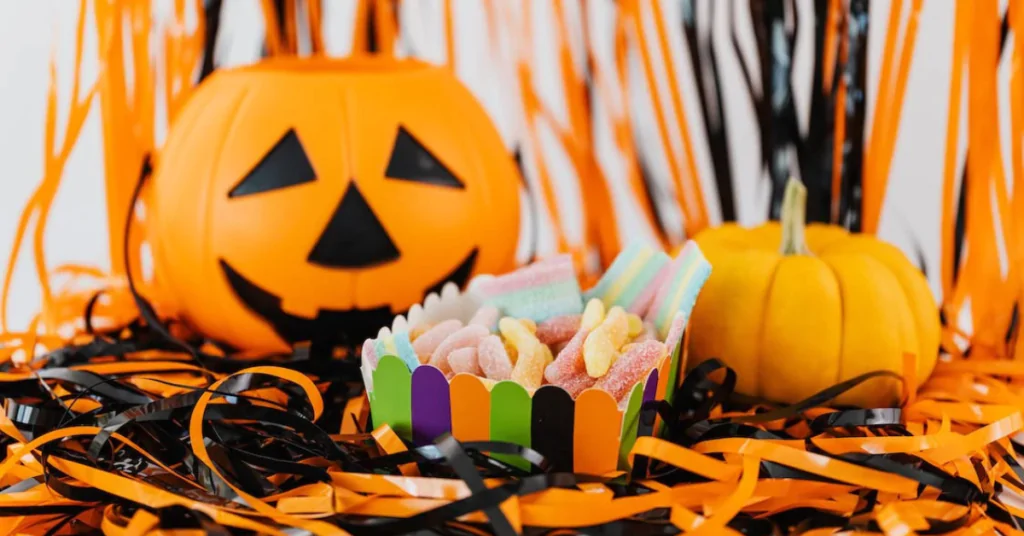 Avoid direct contact with trick-or-treaters.
Give out treats outdoors, if possible.
Set up a station with individually bagged treats for kids to take.
Wash hands before handling treats.
Wear a mask.
Trick-or-Treating:
A costume mask is NOT a substitute for a cloth mask.
Do NOT wear a costume mask over a cloth mask. It can make breathing more difficult.
Masks should NOT be worn by children under the age of 2 or anyone who has trouble breathing
Stay at least 6 feet away from others who do not live with you
Bring hand sanitizer with you and use it after touching objects or other people.
You should be using hand sanitizer with at least 60% alcohol.
Parents: should supervise young children using hand sanitizer.
Wash hands with soap and water for at least 20 seconds when you get home and before you eat any treats.
If you may have COVID-19 or you may have been exposed to someone with COVID-19, you should not participate in in-person Halloween activities and should not give out candy to trick-or-treaters. Tips And Tricks For A Fun Yet Safe Halloween! For more tips and tricks on how to plan a safe Halloween, please visit the CDC website.
How much do I need?
Would you like to calculate how much you'll need by answering a few short questions?
Our Products Are Eco- Friendly, Economical, Compact, And Versatile,
Create A Personalized Disinfection Solution For Your Specific Needs.
Not Sure Exactly How Much You Need Or The Perfect Concentration?