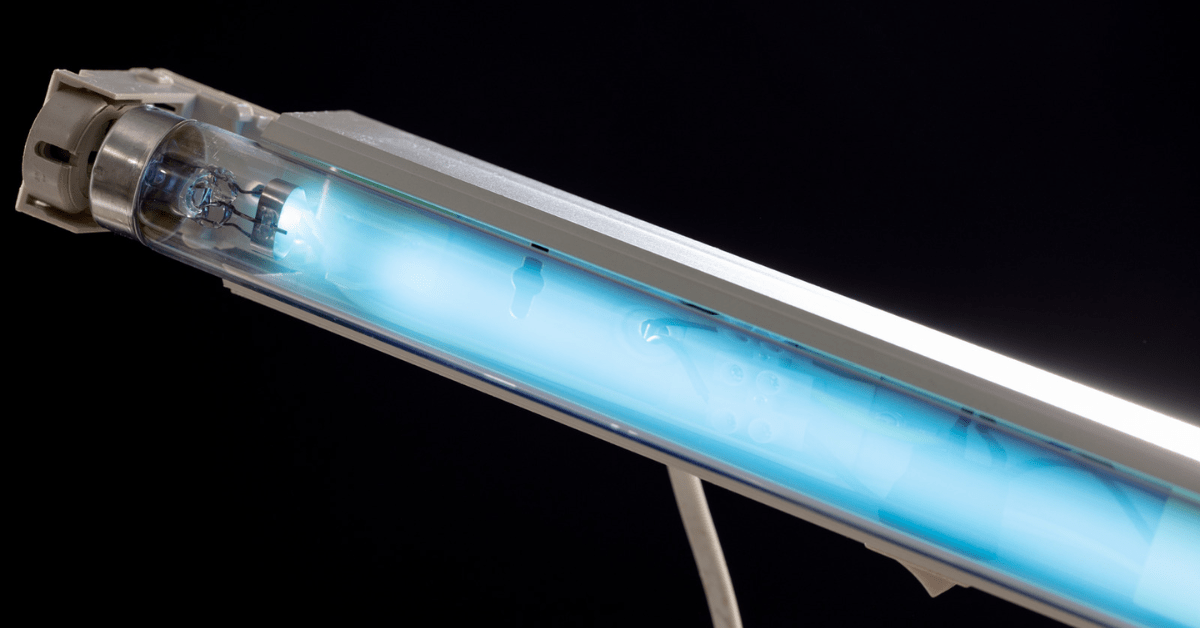 UV Light Disinfection
UV Lighting is a disinfection method that uses short-wavelength ultraviolet light to kill or inactivate microorganisms by destroying nucleic acids and disrupting their DNA, leaving them unable to perform vital cellular functions. Ultraviolet light with wavelengths between 200 – 280 nanometers (nm) is referred to as UVC. Light in the UVC wavelength can be used for disinfecting duct work, sterilizing surfaces, destroying harmful micro-organisms in food products and in air.
Not only can Hughes Environmental help disinfect your facility with UVC, we can help verify that certain areas of your facility are clean with our COVID-19 hard surface testing. A member of Hughes Environmental will swab high-touch areas around your facility to detect the presence of the SARS-CoV-2 virus (COVID-19 or coronavirus) on surfaces based on the CDC 2019-nCoV Real-Time RT-PCR Diagnostic Panel protocol.
UVC Light Disinfection for Industrial Use
In addition, germicidal lamps are utilized to cleanse workspaces and tools utilized in pharmaceutical manufacturing, food production facilities, and other production settings. This method of Sanitization uses a short-wavelength ultraviolet light to kill or Disrupt microorganisms, leaving them unable to perform vital functions. Germicidal lamps are used to Cleanse workspaces and tools used in biology laboratories and medical facilities.
This is cost effective solution for:
Food & Beverage Production
Pharmaceutical Manufacturing
Semiconductor Manufacturing
Other Production facilities
System Benefits
99.9 surface disinfection
Sterilizes mold, bacteria, and viruses
Disinfects coil & drain pan
Improves HVAC efficiency
Improves indoor air quality
Moreover, germicidal lights offer simple and effective solutions for controlling bacterial and viral growth. These specialized lamps emit ultraviolet (UV) light that hinders growth and disables existing growths, thus contributing to the purification of surfaces, water, and more. In addition, incorporating a germicidal light in your production facility can have numerous benefits. For instance, it can enhance air quality and promote the health and well-being of both you and your occupants.
Furthermore, by treating the air that circulates in your heating and cooling system with UV germicidal lamps, it is possible to eliminate mold and eradicate airborne viruses and bacteria that can cause colds, flus, and other illnesses. As a result, you and your employees can enjoy better health.
In-Duct UV Lighting
Mount in-duct UVGI systems inside AHUs or air ducts. When selected to produce appropriate irradiance levels, in-duct systems can be effective for air Cleanse. The goal of an in-duct air Purification system is to Eliminate microbes suspended in the air (e.g., viable influenza viruses) as they move through the duct or AHU, so the organism is no longer capable of causing disease.
UVC Light Disinfection Wand
The UVC Light Disinfection Wand packages UVC technology in a versatile, hand-held device designed to deactivate surface mold, bacteria, viruses and yeast. Moreover, the UVC wand is especially suitable for use in environments such as food processing, healthcare, commercial and institutional settings. The USDA and FDA approve UVC for surface Sanitization and it has a long history of controlling naturally occurring microbes. The UVC Wand is suitable for a variety of specialized uses for surface Sanitization and mold remediation.
UVC Light Disinfection Wand Features
Food preparation, processing and packaging areas to reduce pathogens such Coliform, Salmonella, E.coli, Staphylococcus, Listeria
Laboratories and cleanrooms to prevent cross-contamination
Hard to reach and high-touch surfaces such keyboards, doorknobs, bedrails
Libraries, to eradicate mold on book surfaces
UVC Light Disinfection Wand Benefits:
Highest performance: Delivers the highest output germicidal UV
How much do I need?
Would you like to calculate how much you'll need by answering a few short questions?
Our Products Are Eco- Friendly, Economical, Compact, And Versatile,
Create A Personalized Disinfection Solution For Your Specific Needs.
Not Sure Exactly How Much You Need Or The Perfect Concentration?